23 Mar

How to Setup a VPN to your Office for FREE
How to Setup a VPN to your Office for FREE
There are oodles of ways to setup a VPN to your Office for free, you can use a remote connection program like like RDP or GoToAssist or you can create a VPN tunnel between your two computers using your server, firewall or Teamviewer.
What's the difference between VPN and Remote Sessions like RDP you ask?
What is a VPN ( RRAS, Sonicwall VPN, Teamviewer)
A VPN is a virtual private network, AKA, a secured tunnel between you and whatever destination you want to hit.  Imagine a literal tunnel connectining your home to your office and them picture you pulling and pushing files through that tunnel.  There is a door on each end that requires a key and that's about it
What is aRemote Sessions (like RDP, GoToAssist)
Often we prefer to setup our clients with this solution.  In a remote session scenario you are basically taking over a computer at your office. You take over said computer (usually the computer you use at the office) and see all the exact same things you would see as if you were physically sitting at the computer.
This scenario is nice because you get the exact same functionality that you would if you were sitting in the office; programs, printers, files, servers, etc.
The downside of a remote session is that it's hard to transfer files and information from the computer at home to the office computer you're remoted into.
Now, that I know what the difference between remote sessions and VPNs are, which should I choose?
A VPN is better for transferring files between computers while a remote session is better if you just need to "do work at the office" and when everything you need is all on that work computer.
If you like the VPN option, you can use a Windows Server and activate the RRAS functionality, enable the appropriate ports and protocols through your firewall and then create the tunnel (this will require some higher level I.T. Skills)
or
You can purchase a VPN capable firewall (SonicWALL, Cisco, etc)
or
you can just use the FREE TeamViewer VPN.  TeamViewer has less admin control then other VPN's but it's easier, cost nothing and has a lot less moving parts.
To setup a TeamViewer VPN between your home and office computers download and install TeamViewer on both your computer and your destination computer
You can download and install the Teamviewer VPN here – https://www.teamviewer.com/en/download/windows/
How Setup a VPN to your Office for FREE using Teamviewer
Install and Start TeamViewer on both computers
Go to Computers and Contacts, and then Sign UP for a Free TeamViewer account.
The on the server click Add computer to my Team Viewer account  
Add new computer to my account by clicking the Add button,
You should now see your server listed in the My Computers section on the right hand side, that means its ready to accept incoming connections.
Install VPN Network Adapter on both your computer and the office computer by clicking on Click Extras >> Options >> Advanced Options
Scroll down to see Team viewer VPN Driver and click to Install
A popup window will appear for installing VPN network adapter. Install it.
After the VPN is installed and you are logged into Team Viewer account you can right click on the remote PC and select VPN,
Once connected, a windows should pop-up that looks like this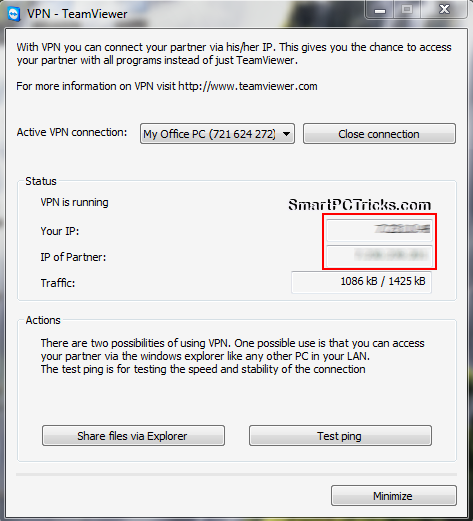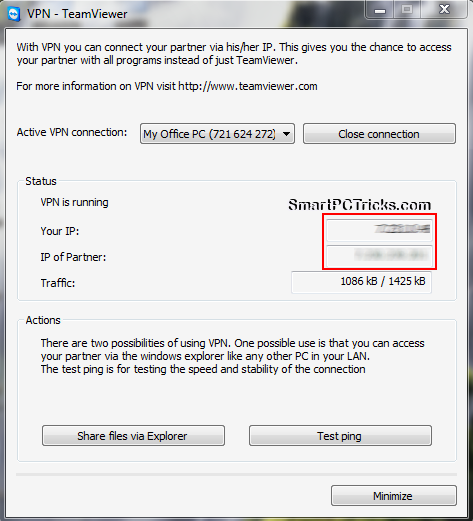 I've setup the VPN, now what?
If you have a work laptop that already has mapped drives, printers and necessary connections pre-programmed than you may be ready to go.
If however, you setup the VPN and don't see everything you need then you will likely need your network admin to map your drives, add your software, setup your ODBC connections, map your printers and do all the other stuff that makes your work computer a… work computer.
This was how to Setup a VPN to your Office for FREE
Now that you have setup your remote access or VPN services, it's time to learn How to Secure your Remote Access to stop Hackers
If you found this post helpful please pop a Facebook like at the top of the page or leave a comment if you think I suck