05 Mar

LME Services Recognized as a Chicago Leader by Clutch
LME Services Recognized as a Chicago Leader by Clutch!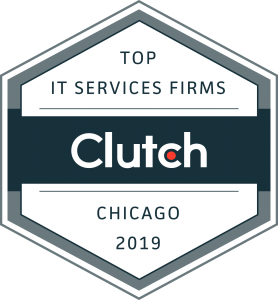 Open since 1994, LME Services is a Chicago-based, family-run IT services company. Low overhead combined with our unique IT support delivery strategy means that we are able to provide clients an opportunity to get best in class tech support, network design, project management and technology consulting at a surprisingly affordable rate.
We are so proud to boast our recognition by Clutch as one of the top cybersecurity companies in Chicago.
Specifically, LME Services is featured in 2nd place on the Leader's Matrix, a compilation of the top 25 firms in this category. This is due to our highly regarded reputation in the MSP and cybersecurity industry and our well-known commitment to supplying our clients with the best work possible.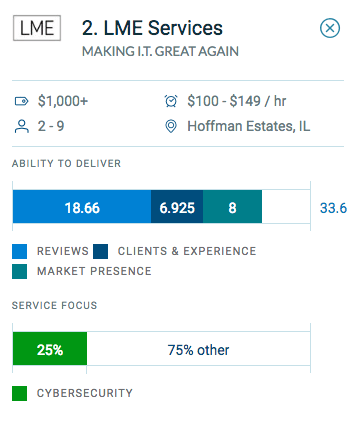 In order to be featured on Clutch, a B2B services ratings and reviews agency, we were extensively evaluated based on our market presence in the IT services industry. Our presence consists of our clientele, portfolio, and projects we have completed. In addition, we were also evaluated on our customer evaluations.
Additionally, our high rankings enabled us to be featured on Clutch's sister website, The Manifest, as one of the top 100 IT services companies in the world. The Manifest is similar to Clutch in that it is another online database that researches top global B2B providers.
Lastly, at LME Services, we are proud to be featured on Visual Objects, one of Clutch's other sister websites. Similar to Clutch, this new platform equips buyers with a digital portfolio of B2B companies' past projects to aid buying decisions.
With this being said, here is a quote from our Joe Engelking, the CEO, about this recognition:
"We greatly appreciated this Clutch award and its affirmation of the hard work and effort that our techs & support staff routinely provide to all our clients."
If you are interested in learning more about LME Services, feel free to take a look at our profile!