22 Apr

How to Easily Send Self-Destructing Emails
How to Easily Send Self-Destructing Emails
If your feeling a bit like Chief Quimby in Inspector Gadget and would like your emails to self destruct after you've delivered them that we've got just the tools.
If you use G-Mail, try out the Confidentiality Button
You will notice at the bottom of every Gmail email that you compose there is a button that looks like a clock with a lock.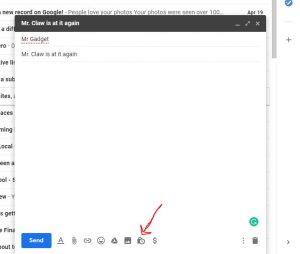 Now, this locking clock does quite a lot and can block a crock of Mr. Spocks (I dunno).
Simply click on that button and you will be provided the option of setting an expiration to your email.  Once the email expires, the recipient will no longer be able to view the contents of your email.
Your recipient will also not be able to forward the email (though they can take a screenshot).
The tool further secures your email by adding an SMS feature, which will supply you the phone numbers of anyone who successfully opens the email.
Another useful feature is that you can un-send emails should you realize, to your great horror, that you used there instead of their.   They're is nothing worse then using theirs not good.
If Gmail isn't your thing, then Check out Privnote
Privnote is a free website that lets you craft a note and then gives you a link which expires after the user has read it.
You still run into the screen-shotting issue but at least you can be assured that should a hacker get access to your emails, they won't be able to review or mine anything that was sent via Privnote.

This was how to easily send self-destructing emails