06 Jun

The Easy and Free Way to Record and Send an Error Message
The Easiest Way to Record and Send an Error Message
People that have tech issues often forget why an error occurred when they explain it to us later (or things will work without issue when they try to show us).
All you have to do to RECORD your entire screen is use the Steps Recorder.
OR you can snap a picture of your issue with the Snipping Tool
Use the

super secret

Step Recorder Tool (which no one seems to realizes they have)
Bet you didn't realize that there's a tool on your computer called STEPS RECORDER that will document every mouse clicks, keystrokes, and screenshots for you.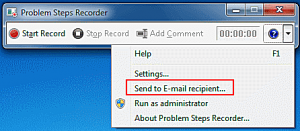 In the Windows Search Bar at your bottom left simply type in STEPS RECORDER and open it
Once open, click START RECORD and everything you click, type and see will get recorded and saved.
When you hit STOP RECORD and then click on the little down arrow carrot (seen in the above image) the recording will be saved as a ZIP and can be emailed to [email protected] for resolution
To easily create a HOTKEY that will instantly open a program you simply
Search for the program, in this case, "snipping tool", then right-click on the result and choose OPEN LOCATION
In the resulting file explorer window, right click on the program (in this case 'snipping tool') and select 'PROPERTIES'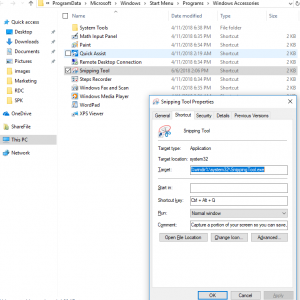 In the 'SHORTCUT KEY' field press and hold CTRL  ALT and Q
Hit OK
You've just told your computer to open up that program whenever you press
CTRL ALT Q
Oh Yeah… don't forget about the Snipping Tool either
To take easily take a screenshot just Search for and open SNIPPING TOOL
Once the program is open, click on 'NEW' and drag the resulting box over an area of the screen that you wish to record.
Once the screenshot is snapped, simply click on the ENVELOPE button and you can email that image to [email protected]
Steps recorder and the Snipping Tool are 2 excellent ways to record errors, workflows and computer usage for future reference